Schedule Appointment? Click Here
Service Area:
Kalispell
Whitefish
Columbia Falls
Bigfork
Flathead Valley..

Kalispell Montana Local Cleaning Service

. We Offer Flat Rates So You Always Know What Price To Expect Before the Cleaners Arrive.

Here is a small list of our services:
House Cleaning
Janitorial Service
Apartment Complex Cleaning
Commercial Cleaning
Construction Cleaning
Maid Service
Rental Property Cleaning
Special Event Cleaning

FLAT $30 Hourly Contracted Weekly Cleaning Rate - Billed Monthly

FLAT $35 Hourly "One-Time/NON-contracted" Cleaning Service Rate(2 HR min.)

FLAT $40 Hourly "VERY DIRTY/HARD TO CLEAN" Service Rate
HOUSE CLEANING
Our house cleaning service in Kalispell is completely tailored to your needs. We provide a professional, friendly and affordable cleaning service that is scheduled at convenient times for you and your family.
JANITORIAL SERVICE
We provide a very deep clean of your home with a supervisor on site to make sure your office is in top form and ready to show off to customers. We do all the things that make cleaning go fast and efficiently.
APARTMENT COMPLEXE CLEANING
Moving in to a new apartment is stressful enough as is. You shouldn't have to worry about those fresh boot prints that the movers left when carrying in your couch. Let Flat Rate's Move-In OR move-out cleaning service take care of that for you.
COMMERCIAL CLEANING
Flat Rate's commercial janitorial cleaning service is the best choice for commercial cleaning services in the greater Flathead area. We work with companies that care about providing safe, healthy and clean professional working environments. Our experienced cleaners provide a extremely high quality service.
CONSTRUCTION CLEANING
Our Cleaning Service has been serving Kalispell's construction industry with all kinds of cleaning services that are unique to post construction cleaning. Let us handle the mess and clean up your work site after the build.
MAID SERVICE
Our maid cleaning service in Kalispell is completely tailored to you. We provide you with a professional, friendly and cost effective cleaning service that is scheduled at convenient times for you and your family.
RENTAL PROPERTY CLEANING
Have you ever had a tenant leave your rental property in an absolute mess? Our professional and reliable cleaners are familiar with all the needs of landlords and property owners. We can provide you with a great rate and a trustworthy cleaning service
SPECIAL EVENT CLEANING
Special events tend to produce a special kind of a mess. Here at Flat Rate our workers team up to clean your next party and we'll take care of all the cleaning for you. Our detailed services include the cleaning of tables and food prep areas, garbage removal, and more.
CLEANING CALENDAR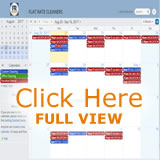 WEATHER
Kalispell, MT Weather :: 27F Overcast
Kalispell
27F Overcast
Today
Kalispell
A 20 percent chance of snow showers. Patchy freezing fog before 11am. Mostly cloudy, with a high ...
Tonight
Kalispell
Snow likely, mainly after 11pm. Mostly cloudy, with a low around 26. South wind 3 to 7 mph. ...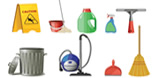 | | |
| --- | --- |
| | |
Large Crowd Greets Cliven and Ryan Bundy in Sanders County
Kalispell
PARADISE — Cliven and Ryan Bundy, father and son cattle ranchers who made national headlines ...
Polson Film Festival Gains Global Interest
Kalispell
"Word has gotten out," says David King, co-chair and producer of the Flathead Lake ...
Plowing Communication
Kalispell
First, let me make something clear: I have no intention of telling anybody how to do their job. ...
Winter's Treasure Chest
Kalispell
Northwest Montana is famous for its unmatchable beauty in the summer, but winter offers its own ...
US Government Shuts Down; Dems, GOP Blame Each Other
Kalispell
WASHINGTON — The federal government shut down at the stroke of midnight Friday, halting all ...
Glacier Will Remain Open if Government Shuts Down
Kalispell
As the federal government inched closer to a shutdown Friday night, Glacier National Park ...
Man Gets 20 Years For Role in Dismembering, Burning Body
Kalispell
BILLINGS — A Montana man has been sentenced to 20 years in prison for his role in dismembering ...